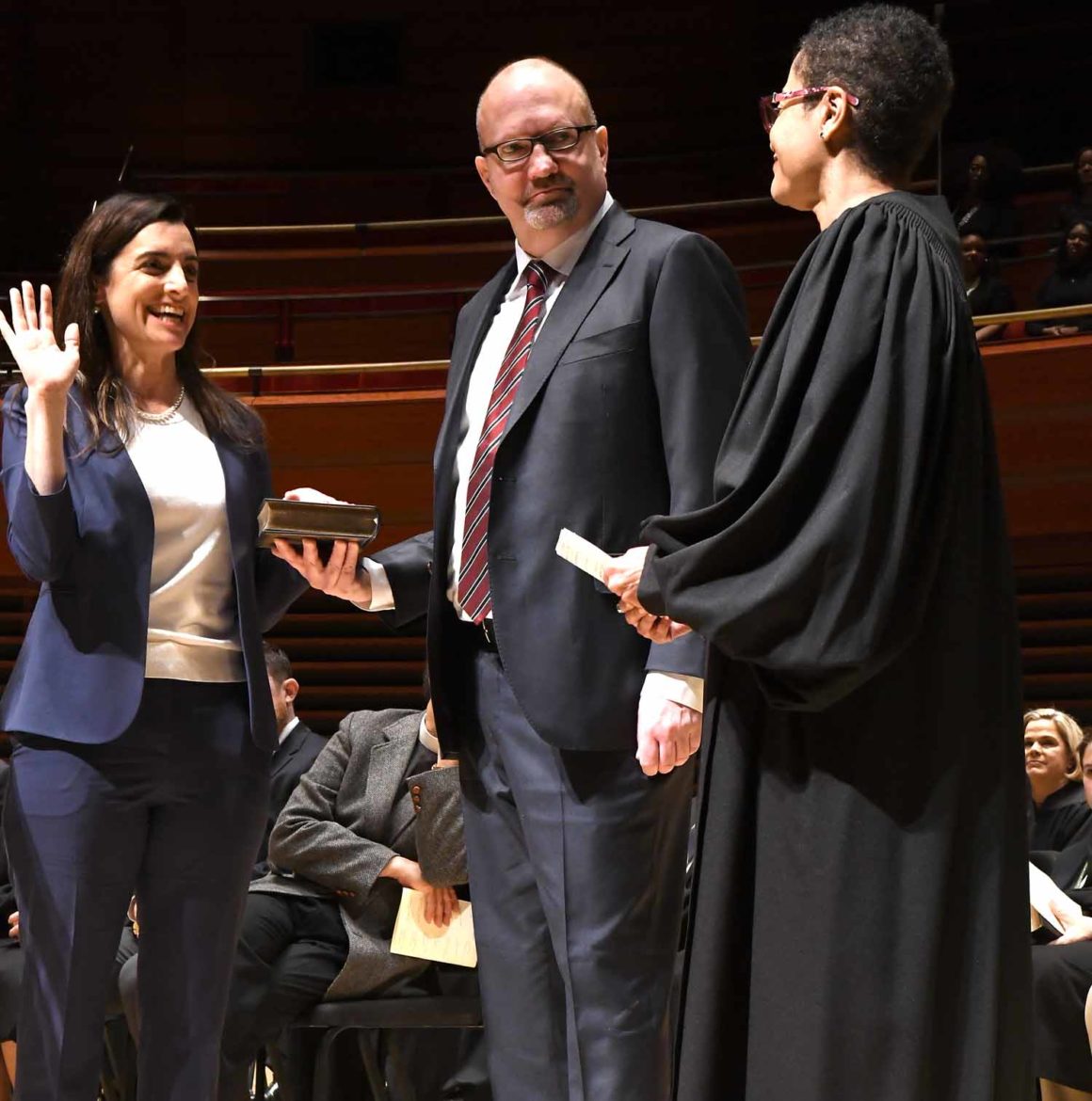 REBECCA RHYNHART SWORN-IN AS PHILADELPHIA'S FIRST WOMAN CITY CONTROLLER
Commits to transformative, collaborative, transparent work during Inaugural address.
Today, Rebecca Rhynhart was sworn-in as the new and Philadelphia's first woman City Controller at the Kimmel Center for Performing Arts. During her remarks at the Inauguration Ceremony, Ms. Rhynhart reiterated her commitment to good government that works and change to the status quo that resonated with Philadelphia voters during the general election and secured her 83% of the vote.
Controller Rhynhart's prepared remarks are as follows, check against delivery:
"Thank you, Reverend Broadnax, for the introduction, I am honored to be here speaking this morning as the new City Controller of Philadelphia. When I decided to run for office one year ago, my odds of winning were not good. Many people told me that there was no way to win against a long-term incumbent in an off-year election. But I felt so strongly about wanting to help my fellow Philadelphians, that I decided to go for it to try to make a real change because for too long we have been willing to accept mediocrity and corruption in local politics. Philadelphians deserve better.
When I made the decision to run for office, we were fresh off Donald Trump's victory and with so much darkness in the political landscape, I thought that we had to stand up and fight for the type of government we believe in, for government that works for people. And what better place to start than here at home. We need to show in the Democratic stronghold of Philadelphia that we are capable of reforming ourselves, that our city leaders are as good as our city residents.
What conventional wisdom didn't count on in my race is that Philadelphia is changing and people are growing tired of the old way of doing things. Voters took that to heart in 2017: In the Democratic primary, against an establishment 12-year incumbent, I received 58% of the vote. I won in neighborhoods in every single part of this city, despite having the support of just one out of 69 ward leaders. And then in the November general election, I led the ticket and received 83 percent of the vote.
This isn't about me…it's about Philadelphians wanting more. People and businesses across the city want Philadelphia government to work better. A big part of that is eliminating the millions of dollars that are currently being wasted, and this is money that should go to programs to lift people out of poverty, to invest in job creation and training, to improve our schools. As City Controller, I intend to use the responsibility and authority given to me by the people of Philadelphia to identify the millions of dollars that are being wasted so it can be put towards better use. I will start doing this in five ways:
First, I will focus on key areas where hundreds of millions of dollars are at stake. For example, the city's Behavioral Health budget is over $1 billion per year and needs a performance audit to make sure that its funding is going to services that best help our vulnerable residents. At a time when the opioid epidemic is raging and the trauma of gun violence is widespread in our neighborhoods, we need to use this money in the best way possible. I will audit these funds to make this happen.
Second, I will collaborate with other government officials where possible to make change happen. For example, I plan to work with State Auditor General DePasquale on making sure that the Philadelphia Parking Authority follows through on changes recommended by his recent audit that showed widespread mismanagement.
Third, I am committed to increasing the diversity of the city's workforce. I will focus on diversity in the audit review process for all city departments.
Fourth, my office will research and take policy positions on key financial issues facing our city, such as if changes should be made to the tax abatement structure now that development is booming in certain neighborhoods.
Fifth, I will focus on increasing transparency in city government by releasing financial data to the public. I believe that government information should be released in an easy to understand format to both increase trust in government and to save money.
I'd like to make a final point which is about gender diversity in politics. I am the first female City Controller the city has ever had. Philadelphia has never had a woman Mayor and Pennsylvania has never had a woman Senator or Governor. Pennsylvania ranks 40th out of 50 states in female representation in office. We need to do better, and we can. Women's voices need to be heard for their own right, and for the children of our city and state. My daughter is 7 years old and I want her to grow up seeing not just me, but many other women, as leaders in our city, state and nation.
I want to take a moment and thank the people who helped me, as I did not do this alone. I first need to thank my fiancé David for his support every day of this process and my daughter Julia for understanding all the nights I couldn't make it home for dinner. I want to thank my wonderful staff and all the people across the city that supported me, that opened their homes to have house parties for me, that spread the word and made whatever contribution they could afford. Thank you. I want to thank Mayor Nutter and Mayor Kenney for their belief and support in me to appoint me to key leadership roles in their administrations. Thank you. The early support of Ryan Boyer of the Laborer's Union, Reverend Jay Broadnax of the Black Clergy, Michael Barnes of IATSE and Governor Ed Rendell, all made a huge difference. These are leaders that took a risk in supporting me and I thank them deeply for believing in me. It's only by standing up for what we believe in and taking such risks that true change is achieved, so thank you.
This is just the beginning. I want our work to be transformative, to be able to show real accomplishment. I want all of us to say one, two three years from now that we did this together, we made Philadelphia work better. That is what we are embarking on together, and I'm thrilled to now be able to get started. Thank you all!"